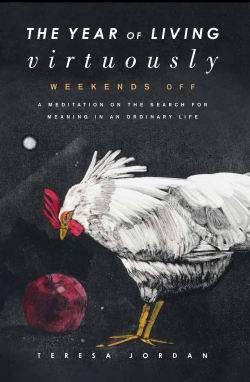 Thirteen Virtues, Seven Sins … and a whole lot more.
Drawn from Teresa's popular blog of the same title, this book starts with Benjamin Franklin's list of thirteen virtues and asks the question: do Franklin's perhaps antiquated notions of virtue offer guidance to a nation increasingly divided by angry righteousness?
Read more here.
Buy a signed copy here.
NEW on TeresaJordan.com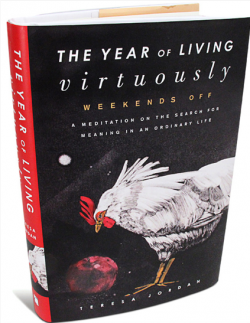 Read The Wall Street Journal review of The Year of Living Virtually (Weekends Off)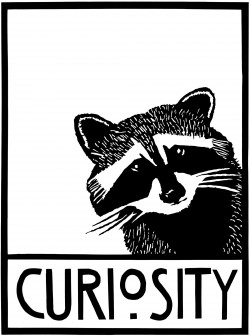 Preview illustrations from The Year of Living Virtually (Weekends Off)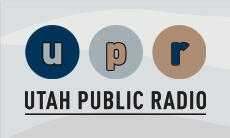 Listen to an interview with Teresa Jordan on Utah Public Radio
UPCOMING EVENTS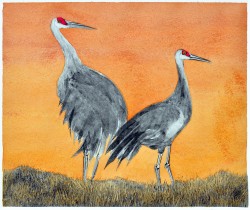 Teresa Shows with the Wild Women Artists
Duncan Little Creek Gallery
Reception: Thursday, January 29, 5-8 PM
Friday, January 30: Noon – 8 PM
Saturday, January 31: 10 AM – 6 PM
518 Commercial Street Elko, NV 89801
775-738-3426
Learn about the Wild Women Artists here.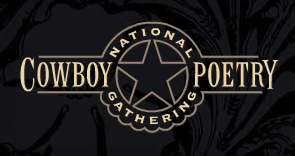 "Listening and Living Virtuously"
Humanities Lecture at The National Cowboy Poetry Gathering
Friday, January 30 11:30 AM Elko Convention Center, Turquoise Room
Learn more about the National Cowboy Poetry Gathering here.

chooses The Year for their January book club.
Online UtahLit book club discussion Friday, Jan. 30, 12:15 p.m.  Use the link at the top of
sltrib.com
to access the discussion (link will activate at the above time). After the fact, watch the webcast or download the podcast
here
.
Read the article here.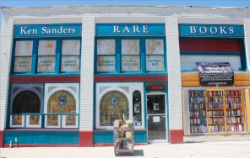 Stories and Songs related to The Year of Living Virtuously

With Hal Cannon Friday, February 13 7 p.m.
Ken Sanders Rare Books
268 South 200 East, Salt Lake City, UT 801-521-3819