A Lecture by Teresa Jordan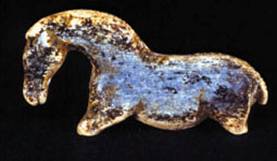 The Vogelherd Horse, 30,000-35,000 BPE
The horse has intrigued artists since the first amulet carved in bone, at least 30,000 years before the birth of Christ. Horses and humans were still millennia away from forming a partnership — the earliest estimates place domestication less than ten thousand years ago — and equines took their place among bison, deer, sheep and goats on the menu for dinner. But already the animal possessed a particular allure. Of the thousands of examples of rock art found at Lascaux, at Niaux, at Vallon-Pont-d'arc and other sites across France and Spain, nearly a third of the figures represent horses.
What began in such dim prehistory held true at least until the early twentieth century. No animal has been more important to us, or figured more prominently in our art, than the horse. From the moment our partnership was forged, horses have provided distraction and entertainment as well as power to build cities, roads and pyramids, and to feed the human race. They have allowed one people to dominate another. They have conferred wealth and status. They have provided companionship to those who love and understand them and as well as brutal antagonism to those who do not.

Sioux Effigy, late 1880's
For all these reasons horses as subject matter have provided artists with a shorthand to both meaning and commemoration: Greek amphorae from as early as the sixth century BCE depict horse races; the 3rd Century BCE Chinese Emperor Ch'in Shih Huang Ti had himself buried with 600 larger-than-life-sized terra cotta horses; nearly all the kings of Europe chose equestrian portraits to memorialize their valor and authority; Wassily Kandinsky, Franz Marc, and other members of Germany's pre-WWI Blue Rider school turned to the horse as a symbol of spirituality and purity. If we had no more clues to a culture than how it represented horses in its art, we would know a great deal about it.
In this lecture, which presents over a hundred images, Teresa Jordan looks at the horse in art history, tracing the ways in which artists have used the horse as subject matter over the millenia. She will also look at art history in the horse, discussing how this one subject matter provides a way to trace trends, ideas, and accomplishments in the world of art.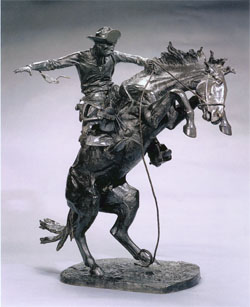 Frederic Remington, The Bronco Buster, 1909
Some representative themes and examples:
Why create? (Deborah Butterfield, Jaune Quick-to-See Smith)
How does technology change art? (Edweard Muybridge, Xerox art)
How does society change art?(Edgar Degas, Rosa Bonheur)
Who is better? On what basis? (Frederic Remington, C.M. Russell)
Looking in or looking out? (Na­tive American and non-native art)
How do artists master their subject? (Leonardo da Vinci, George Stubbs)
Response to 30,000 Years of the Horse in Art
Teresa Jordan took the National Cowboy Poetry Gathering audience on a magnificent ride across the globe and through time to explore the visual narrative of the horse. Whether they came for the love of horses, history, or art, the audience of over 300 left Jordan's presentation with a new appreciation of this universally esteemed subject. This is a presentation that has wide appeal and will leave you hungry for more.
-Meg Glaser, Artistic Director, Western Folklife Center
Mesa was thrilled by the slide lecture our artist in residence, Teresa Jordan, gave at the St. George Art Museum enti­tled "30,000 Years of the Horse in Art." It was our most attended public event ever – people came from around the region, attracted both by Teresa's reputation as a writer and by the topic. Teresa's passion for her material comes shining through. We continue to receive glowing feed­back
-Kim Konikow, Executive Director, Mesa Institute, Springdale, Utah
Features over 100 images from around the world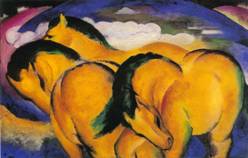 Franz Marc. The Little Yellow Horses, 1911