Mollie O'Brien and Rich Moore in Concert, March 22!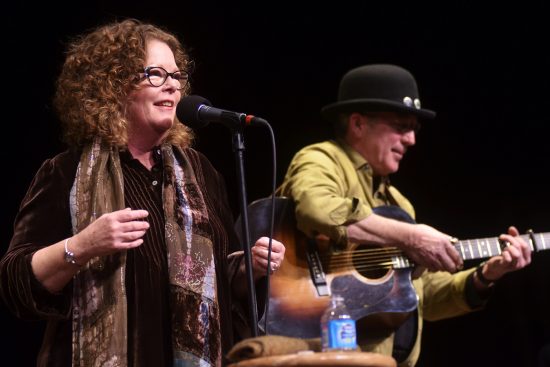 Join us for an evening with Grammy-Award-winning singer Mollie OBrien and guitarist extraordinaire Rich Moore live in a house concert at Blue Gate Studio in Virgin, Utah. They played here two years ago to a sold-out house, and folks have been begging us to get them back ever since. So now we have!
Mollie was a regular on A Prairie Home Companion from 2001-2005. She has toured and recorded extensively with her famous musical brother, Tim O'Brien. Mollie's husband, Rich, is a powerhouse on the acoustic guitar. Together their music spans folk to obscure vintage jazz. They will even sing "Just Go," written by Virgin's own Hal Cannon.
"Mollie has one of the best voices in the business and Rich is a magical
guitarist." –Tom Paxton
When: Wednesday, March 22, 2017
Where: Blue Gate Studio on Highway SR9 between
300 W and 100 W in Virgin, Utah
Time: 7:00 pm (doors open at 6:30)
Seats: Suggested donation: $15, 18 & under free. All proceeds go to Mollie and Rich. In the tradition of house concerts everywhere, you are invited to bring finger food to share at intermission.
Seating is limited. For reservations, send a check to Blue Gate Studio, PO Box 790159, Virgin, UT 84779. Or purchase tickets online
Listen to Mollie and Rich on their website
For more information, contact Hal Cannon and Teresa Jordan
About Blue Gate Studio

Blue Gate Studio in Virgin, Utah, just thirteen miles from the south entrance of Zion National Park, is the creative playground for Hal Cannon and Teresa Jordan, a quiet place where they write, make music and art, and produce features for public radio and TV. A private studio, rehearsal, and exhibit space, it is open by appointment and for special events such as open studio days, workshops, and house concerts.