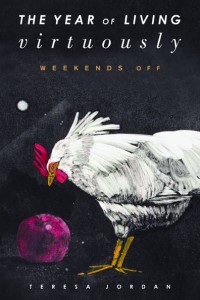 Forthcoming from Counterpoint Press, December 2014
Temperance? Humility? Frugality? The author spends a year trying to live Benjamin Franklin's list of thirteen virtues.
In his early 20s, Benjamin Franklin embarked on a "bold and arduous project of arriving at moral perfection," intending to master a list of thirteen virtues. He soon gave up on perfection but continued to believe that these attributes, along with a generous heart and a bemused acceptance of human frailty, laid the foundation for both a good life and a workable society.
Writer and visual artist Teresa Jordan wondered if Franklin's perhaps antiquated notions of virtue might offer guidance to a nation increasingly divided by angry righteousness. She decided to try to live his list for a year, focusing on each virtue for a week at a time and taking weekends off to attend to the seven deadly sins.
The journal she kept became this collection of beautifully illustrated essays, weaving personal anecdotes with the views of theologians, philosophers, ethicists, evolutionary biologists, and a whole range of scholars and scientists within the emerging field of consciousness studies. During her wry and intimate journey, she was surprised, as was Benjamin Franklin before her,  "to find myself so much fuller of faults than I had imagined."
Advance Praise for The Year of Living Virtuously (Weekends Off)
"Teresa Jordan has given her readers an enormous gift. We were waiting for this stunning, graciously written landmark of a book, needing it desperately, without even realizing how much – time for celebration." — NAOMI SHIHAB NYE, author of A Maze Me: Poems for Girls
"When you begin this book of modern meditations, you will simply want to keep reading it, having fallen under the spell of Teresa Jordan's marvelous and many-faceted investigation into our notions of virtue and vice. You can open The Year of Living Virtuously to any chapter—to Lust or Greed or Gluttony, or Balance, Manners, or Moderation—and find wit and quiet wisdom. The extraordinary stories and sources Jordan draws on for her meditations, ranging from the personal to the neuro-cognitive, remind us that we can chose where to place our attention and, as we live more mindfully, not only endure the difficult moments but find the tranquility we seek." — JUDITH FREEMAN, author of Red Water and The Long Embrace
"Thoughtful reflections on virtue and vice. Jordan … delves deep, especially in the more extended essays, into the essence of contrasting modes of being. [This] engaging collection abounds with provocative inquiry, offering plenty of food for thought." –KIRKUS REVIEWS